About Us
The Torrent Wines story begins in a little village in Italy called Torino Di Sangro where my Father Guerino D'Angelo was born. He grew up with his family working and living on a vineyard owned by a wealthy landowner. As he worked the land he often dreamed about one day owning his own vineyard but because times were hard in Italy he knew that he had to migrate out of Italy to achieve his dream. In 1956 he decided to migrate to Australia where he settled in the Swan Valley. In 1958 he bought his first property and planted his first Grenache, Shiraz and Pedro vines. Then in 1961 he married his Wife Emilia who also devoted her life to the vines.
In 1963 he made his first barrels of wine in the same tradition that he had learnt growing up in Italy to be enjoyed with family and friends. For the next 18 years he worked at the Midland Abattoirs and after hours and the weekend was spent looking after the grape vines. In 1973 he bought his second property which had wine and table grapes. Then in 1981 he left the Midland Abattoirs because he wanted to devote more time to look after his main passion in life.
Towards the late 1980's Dad decided to remove all the table grapes because he wanted to plant more wine grapes as this was his main passion. During the 90's the demand was high for premium wine grapes and most of the grapes were sold to major wineries in the Swan Valley.
In 2006 my son Rino began to help on the family vineyards, I saw in the early years Rino's commitment to viticulture and winemaking was just like his Grandfather. In 2009 Rino was priviliged to work at Sittella Wines where he learnt many skills in viticulture and winemaking where he worked closely with a great family team. In 2013 Rino left Sittella to work full time at Torrent Wines.
In 2007 my Father Guerino passed away. My Father always believed in 3 main things in life, Family, Food and Wine. Coming soon in honour of my Father we at Torrent will be building a winery/restaurant in the Swan Valley where people can come together to enjoy good food and wine the way my Father would of wanted.
Mark D'Angelo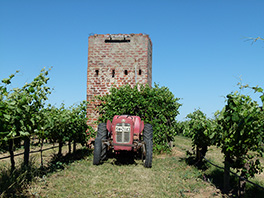 Images